This wiki contains Full Plot Details for Season 1, Season 2, and Season 3.
This Wiki aims to be the comprehensive resource for everything concerned with Colony, and we need your help to achieve that. Anyone is welcome to contribute here, just hit the Edit button and start typing when you see something that could be better


Latest posts
I'm a massive fan of Amanda Righetti, I love her in The Mentalist, love her work in Colony actually. But I don't know what the character Madeline Kenner is for in the story.
The other characters are solidl…
Welcome UK viewers - we hope you're going to enjoy Colony as much as it's been enjoyed in the US.
The show has already been renewed for Season 2, (airing sometime in 2017) and has built up quite a fol…
See more >
References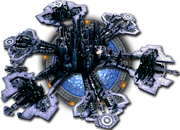 Community content is available under
CC-BY-SA
unless otherwise noted.