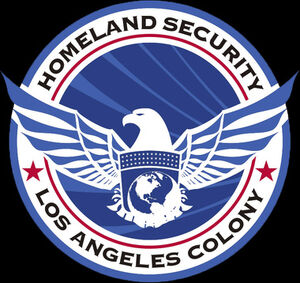 Homeland Security is a fictional organization in the TV series Colony, also known as the Redhats, the Red Berets and the Proxies. They are also sometimes called the Raps, apparently a reference to raptors (the Homeland security logo features a stylized bird of prey).
Homeland Security is an occupying military force under the control of the Transitional Authority and the Host.
The fictional organization called Homeland Security was created after the Arrival. They are an oppressive organisation and hunt down the members of the Resistance.
United States Department of Homeland Security
Edit
The real-life Department of Homeland Security was created to counter both natural disasters and man-made events. The logo of Homeland Security in Colony bears a striking resemblance to that of the real-life organization.
Community content is available under
CC-BY-SA
unless otherwise noted.