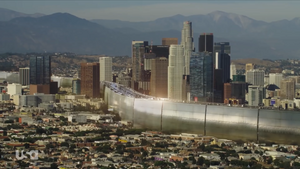 Los Angeles, officially the City of Los Angeles and often known by its initials L.A., is the largest city in California, in the United States.
"Each #colony is separated into blocs. Los Angeles [County, where the city of Los Angeles is incorporated] has three: Los Angeles, Santa Monica (where Charlie is thought to be) and San Fernando. Each bloc has an occupied zone -- 'the flats' in [the city of] LA's case -- and a 'Green Zone,' where the privileged and the authority dwells."
-Ryan Condal, on Twitter
Los Angeles is one of the world's centers of media, business, and international trade. It is the second most-populous city in the United States. It is also the home to renowned institutions covering a broad range of educational and professional fields, and it is one of the most substantial economic engines of the United States. Los Angeles (and its Hollywood district) lead the world in producing entertainment such as motion pictures, television, and recorded music. It was invaded by a mysterious force that occupied Los Angeles.The event which marks the beginning of the occupation became known as The Arrival.
Other Points of Interest
Edit
The map of the city of Los Angeles bloc which is one of three other blocs within the Los Angeles Colony. There is a specially-designated area within the city, known as the Green Zone, which is set aside for the influential and loyal followers of the Hosts.
The Hollywood sign seen in the background. The sign was restored on two separate occasions, and it was actually called Hollywoodland at one point, to demarcate the housing development in the area
Cross-section of the Avenue of the Stars. In the background, on the left-hand side, is the building 2000 Avenue of the Stars, marked off by Constellation Boulevard. This particular portion of the Century City district once housed the ranch of cowboy legend Tom Mix, which later became Fox Studio backlot & the former ABC Entertainment Complex.The district, derives its name from the merged operations of 20th Century Pictures and Fox Studios, namely 20th Century Fox Pictures.
Moreover, the 2000 Avenue of the Stars building, is the centerpiece of the redevelopment of the Century Park Complex. The complex also houses a pair of identical buildings called the Century Plaza towers
Community content is available under
CC-BY-SA
unless otherwise noted.