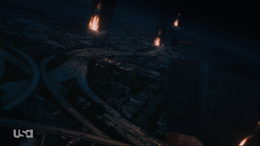 The Arrival was an invasion by a mysterious occupying force which has occupied Los Angeles and the entire world. The Arrival began in November 13, which was seen in an episode, Eleven.Thirteen, the title of the same date.
During the Arrival, the mysterious force, which later became known as The Hosts, took over Los Angeles, California and the rest of the world. It was revealed that a mysterious organization, known as the Institute for Global Advancement, were responsible for helping the Hosts start an invasion, and began recruiting suitable people for the Transitional Authority. Alan Snyder was one of the recruited members.
The Arrival in Los Angeles took about eight hours according to Phyllis. A number of people, including FBI, CIA and special forces soldiers were eliminated during the Arrival. Will states in S1:E9 Zero Day that he was at work during the Arrival and could hear over the radio that FBI agents were being taken out or going missing. Snyder jokes that the drones killed his congressman, but it's unclear if this is true until season two when it is revealed that specific politicians and important private citizens were specifically targeted. [[1]]
Community content is available under
CC-BY-SA
unless otherwise noted.