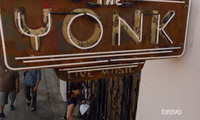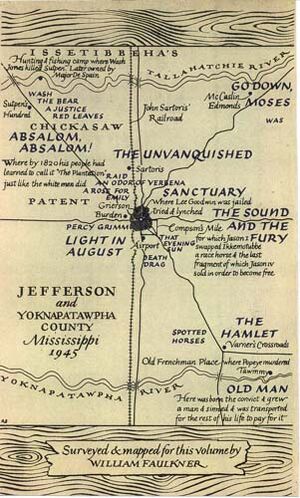 The Yonk is the bar owned by Katie Bowman, its full name is Yoknapatawpha, which is the name of a fictional county created by the American author William Falkner. Have a look at its Wikipedia entry here, and the map, drawn by Faulkner, is on the left.
Katie was forced to close the bar after The Arrival; she gets the opportunity to open it again when her husband, Will takes a job with the Transitional Authority so that they can get their son, Charlie Bowman, back.
On a side note, the real life location of the Season 1 bar is Delta Street and the 1500 North Block of Echo Park Avenue of Los Angeles, California.
The design of The Yonk is based on the real life "Half Moon Bar" in New Orleans[1] and the building used as the Season 1 set, see above, for the series is in Echo Park. Actual location identified (above) by an anon editor. (Thanks anon :) ReginaldDrax (talk) 18:07, July 19, 2017 (UTC)
As of Season 2. a different location is used for the exterior of the Yonk. The building shown at the beginning of the sixth episode of the second season entitled "Fallout" is visibly not the same. The revised location is 5537 North Figueroa Street.
References
Edit